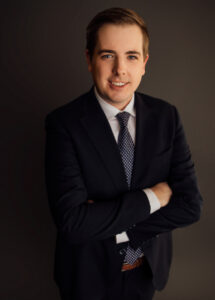 Did you always know that you wanted to be a dentist? Why/How?
I first became interested in dentistry as a teenager after spending countless days with my orthodontist and the oral surgeon. Once I got to college, I began shadowing a few dentists and enjoyed the different procedures dentists are able to perform and the personal relationships they could build with their patients.
Who do you admire?
I admire my parents. They have always encouraged my siblings and me to pursue our passions. I wouldn't be a dentist today without all of the love and support they provided me along the way.
What do you really enjoy?
I enjoy spending time with family and friends—whether on the golf course or hanging out by the grill in the backyard.
What are you most passionate about professionally?
I'm passionate about providing excellent care to my patients. Dentistry is constantly evolving with new technology and techniques, and I'm always trying to learn ways I can improve that will benefit my patient's oral health.
Any specific charities you love and why?
I love Best Buddies International, a charity devoted to providing services and opportunities for individuals with intellectual and developmental disabilities. I got involved with this charity during college, and they truly do amazing work for a population in need.
Favorite breakfast food?
A bacon, egg, and cheese sandwich.
What did you want to be when you were a kid?
I wanted to be an astronaut.
Where did you grow up?
I was born in San Antonio, TX, but grew up here in Omaha.
What is your favorite movie?
The Usual Suspects.
Do you have any hobbies?
I play golf and basketball.
What do you like most about your role on the team?
I like working with the team to create a comfortable and positive dental experience for our patients.