Welcome to
Quality Dental Care | Your Dentist in Omaha
We promise to create a stunning, healthy smile that you can enjoy for a lifetime. Our dentists and team listen to each patient and fulfill their needs with a wide range of services and state-of-the-art technology. The dental professionals at Quality Dental Care are skilled and practiced doctors that truly care for their patients. We love giving our patients the sparkling smiles that they've always wanted and the optimal oral health that they deserve.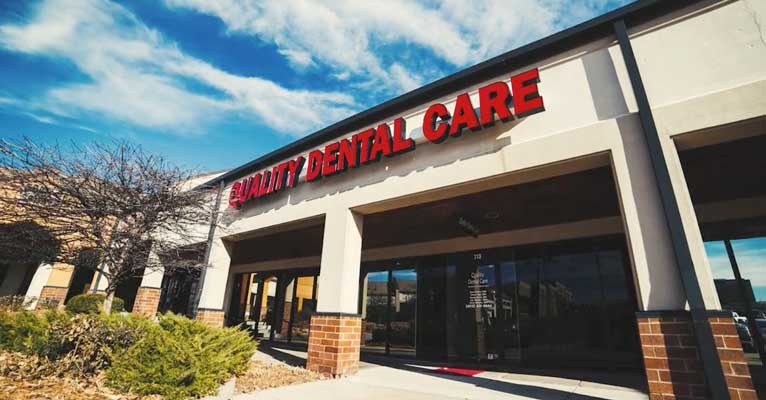 New Patient
Online Offer

Free Philips Zoom!
Whitening Pen
with
Regular Cleaning
(Includes Exam & X-Rays)
Contact Us for More Details
Request an Appointment
Meet Our Staff
Our Services
Write a Review
Hons L.

I have nothing bad to say about this place. Everything is neat, clean, organized, up to date. The staff is caring and is always there to help answer any questions you may have. I've searched a long time for a dentist like this. Well done everyone at Quality Dental. You've restored my faith in dentistry once again!

Samir M.

Standard cleaning plus follow up on an oral tissue issue that had been previously identified. Quick and painless! That's what I want out of my dentist. Recommend Dr Lecci and these folks without reservation. If this isn't your dentist office, it should be!

Bryon P.

I've had several dentists in the past and Quality Dental Care is by far the best! Hygienists are super gentle, friendly, and the dentist is great too! I actually don't worry about going to the Dentist anymore! Thank You Quality Dental Care!

Thomas W.

Don't want to work out or go to the dentist but need to do both! So I drag myself to the gym and as far as the dentist goes since I need to go I will go to Quality Dental Care!

Shirley L.

Every time I go to see either the dentist or the hygienist, I am treated like I am a VIP, love this place from the coffee in the lobby to the extras if needed from the Ala cart menu of comfort. to the great staff who check me in and out of the office and of course the people working on my teeth. Thank you all

Bryon P.

I came in for a scheduled cleaning and checkup. As always, all the staff are professional, friendly, and focused on my visit. Most people fear going to the Dentist, but I love going to Quality Dental Care!

Harold M.

For me kindness and consideration are the words that I would use to describe the best dental care that I've received from a dentist in my 50 plus years. The Doctor and Staff will work with you to remove all fear... and provide the most comfortable, safest and most professional dental service you could ask for.
Come Visit Our Convenient Location!
Just steps from Hy-Vee 132nd & Dodge
Directions
Our Hours
Monday: 8:00 – 5:00 Tuesday: 8:00 – 5:00 Wednesday: 8:00 – 5:00 Thursday: 8:00 – 5:00 Friday: 8:00 – 1:00

We appreciate each and every one of our patients and their unique needs. We look forward to providing you with excellent dental care. Give us a call to set up your appointment today.