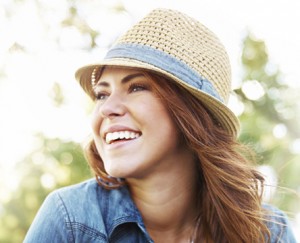 Do you want teeth that are straighter and whiter? More even and unified? How about all of the above? Here at Quality Dental Care in Omaha, we offer the cosmetic services that will give you that stunning smile in no time.
Teeth Whitening
Dull, discolored teeth can detract from the overall appearance of even the best looking people. Bright, white smiles turn heads and make great first impressions. Many of our patients are interested in brightening their smiles, so we provide advanced bleaching technology and plenty of whitening options. When you visit Quality Dental Care for tooth bleaching, you will see professional results in a short amount of time.
Lumineer Dental Veneers
Dental veneers can fix discolored teeth, misshapen teeth, or teeth that are an abnormal size or length. Veneers are thin shells placed over the teeth that are distracting from your otherwise attractive smile. Once these beautiful porcelain veneers cover the problem teeth, you can enjoy a consistent and appealing smile.
Dental Implants
Missing teeth are destructive to both your health and your appearance. Dental implants will protect your oral health and boost your self-confidence. Implants are replacement tooth roots that will stimulate and strengthen your jawbone. Your dental implants will be restored with crowns so you can love your smile that feels, looks, and functions naturally.
Invisalign
Now you don't have to sacrifice your image to straighten your teeth. Invisalign clear braces consist of virtually invisible aligners that will give you a gorgeous, straight smile. Invisalign aligners are made of comfortable, smooth plastic and works just as well as traditional braces.
Boost Your Smile for All to See With Quality Cosmetic Dental Care!
We offer all of these services and so much more at Quality Dental Care in Omaha. We love to make our patients feel good about themselves with cosmetic dentistry. Give us a call today to find out what we can do to make your smile stand out.